Was it just me, or was there always something oddly sexual about the movie Drop Dead Fred?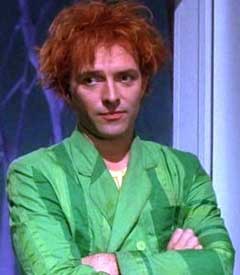 I mean, yeah, it starred Rik Mayall, who was the insane punk rock guy of the Young Ones, so he brought a very rebellious and sly and cheeky vibe to the complicated role of the imaginary friend who comes back to his former playmate once she's grown up to taunt her into happiness… but the movie was still written with some very "adult themes", as they say.  Fred frequently comments on people's sex lives and spies on Phoebe Cates when she's making out with people, but at the end, when it's time for him to finally leave, do you remember the kiss that he and his grown up companion share?  My my, it was hot.
So I'm not at all surprised to learn this:
Russell Brand is starring in the remake of Drop Dead Fred.
Gaaaaah.
It was in the Hollywood Reporter yesterday, and Brand himself conifmred it on his Twitter this morning.
rustyrockets Drop Dead Fred – true. Arthur – true, Kinky Bible – a film I will never make.
Look for me in a theater near you whenever this comes out.
1 Comment