Antichrist is a movie that premiered at Cannes this year starring Willem Dafoe.  I have not seen this movie, but it's apparently about a couple who, after their toddler dies, retreats to a cabin in the country.  Creepiness ensues. Wikipedia, in its infinite impartial wisdom, describes some of its "controversial" scenes thusly:
She hits His testicles with a wooden plank so hard that it is implied they are crushed. While He is unconscious, she masturbates him until he ejaculates blood. She then drills a hole through his shin to bolt him onto a grindstone. In a later scene, She cuts off her own clitoris with a pair of rusty scissors.
Well, just like anyone else, when I read that passage, I think VIDEO GAME.  And sure enough, one is being made.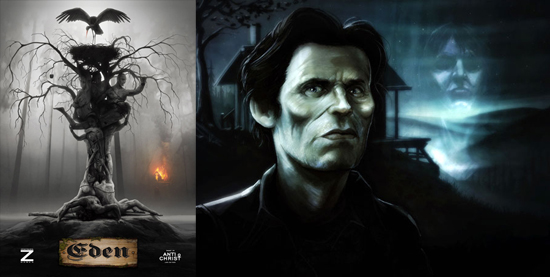 In Denmark, natch.  The game, called Eden, will be a PC-only game that
will be a first-person thriller/adventure game that invites players to confront their fears. Willem Dafoe will reportedly reprise his role in voice-over, though the game will not replicate the film, picking up afterward instead.
The poorly translated Danish article about the game says that "…the game will adjust its action according to similar responses including know that via the Internet news media downloads bizarre news clips and videos from the real world into the game universe."   I don't know how we're supposed to confront our fears in a video game, but maybe it'll go all Psycho Mantis (Metal Gear Solid) on us and use your web history.  And that would be terrifying.